The APO2 is no longer for sale. We are all out of kits, cases, and circuit boards. It has been replaced by the APO3. This page remains on line for informational purposes only.
---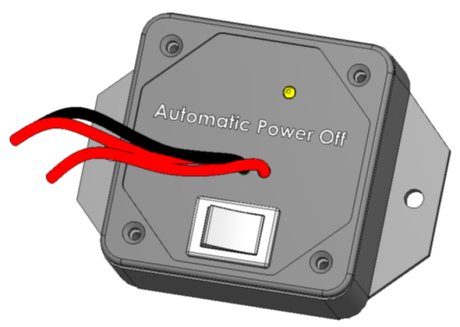 Introduction
The APO2 is designed to protect a vehicle battery from being discharged when the vehicle is turned off. It will turn off a DC load when the battery voltage drops below a voltage set point and after a timer has elapsed. There are two set points which can be selected with a jumper, 13.05 volts and 12.1 volts. The 13.05 volt threshold is designed so the DC load will turn off approximately 15 to 20 minutes after the vehicle ignition turns off. The 12.1 volt threshold is designed to protect a battery from permanent damage.

The APO2 is enclosed in a ABS plastic enclosure with mounting tabs. It is inexpensive and light weight so it can be used in a variety of locations and applications.
---
Specifications
| | |
| --- | --- |
| Dimensions | 2.5" (64 mm) long, 3.5" (89 mm) wide, 1" (25.4 mm) tall |
| Weight | 2.5 ounces (70 grams) |
| Input Voltage | 7-20 volts DC |
| Input Current | 3.8mA at 12 volts DC when output is shut off, ~13mA when output is on |
| Switching Current | 35 amps |
| Internal Protection | Thermal, Over Current |
| Case Material | Flame retardant ABS plastic. UL's best flame rating of 94-5VA (case only). |
---
Manual and DVD
The manual includes a brief introduction to the APO2, assembly instructions, and operating instructions. PDF version of the manual

Walt Kelly, KE0XI, has produced a DVD that documents building the kit and its design process. It is available for those purchasing the APO2 kit. Below are a few screen captures taken from the DVD.
| | | |
| --- | --- | --- |
| Checking the kit parts list. | Demonstrating proper soldering technique for assembling the APO2. | Showing final mechanical assembly. |
---
Schematic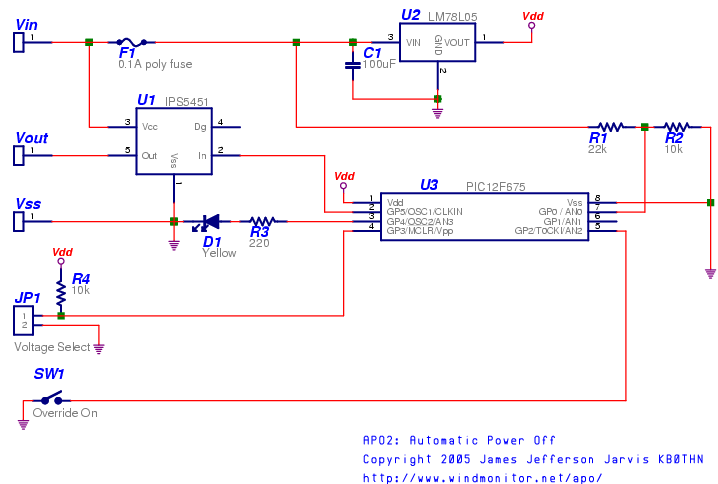 ---
Source Code
The software is very simple. I compiled it with CCS's PCM compiler. I have also provided a compiled version in case you don't have the CCS compiler or my default meets your needs.

There are plenty of possible improvements. For instance the hard coded values could be stored in EEPROM where they would be easier to change.
apo.c - C source code
apo.hex - HEX file for programming a PIC
---
3D CAD (Solidworks) Files
I've placed my Solidworks 2004 files online in /apo/solidworks/. They are ugly quick hacks, but they were sufficient for getting the mechanical layout of the case right on the first try. If you need IGES files for another CAD package I can convert them for you.