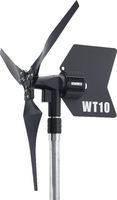 Introduction
APRS World's WT10 micro wind turbine is the premiere wind generator for extreme wind enviroments. We have spent years developing and testing the WT10 in downright brutal locations and applications. Regular 150+ MPH winds, ice, and lightning. Every component of the WT10 has been repeatedly revised to make it as tough as possible and work in the most demanding enviroments. Simply put, there isn't a tougher micro wind turbine on the market.
A complete system
APRS World can supply you with a complete integrated and tested micro wind turbine or hybrid wind / solar power and control system. We manufacture turbine control panels, output cables, dump loads, tower components, specialized installation tools, and even highly innovative mounting structures for ISO shipping containers. With our 13 years of experience in data acquisiton and control systems for small wind, we can offer both the most advanced and the most cost effective instrumentational, control, or telemetry systems.

Made in USA — with pride
The WT10 is assembled in the USA with as many USA made components as possible. The only major non-USA components are the European designed and molded blades and the Asian made bearings. While other companies continue to move manufacturing overseas, APRS World has invested heavily to bring the generator manufacturing to the USA. See a complete breakdown of country of origin information in our documents section.
WT10 Design
The WT10 is designed to be strong and power through anything mother nature can throw at it. Nearly every component on the WT10 is designed by APRS World and custom manufactured for us. Off the shelf components neither fit nor provided the reliability we require. Most components are machined from solid metal or engineered plastic. All components are sealed, plated, or otherwise designed to provide the most reliable service. Read more about each part of the WT10 turbine in our WT10 design section.
Specifications
TURBINE
Configuration
3 blades, horizontal axis, upwind
Rated power @ 11 m/s
24 volt battery charging: TBD watts
48 volt battery charging: TBD watts
Applications
Battery charging
Cut-in wind speed
4.5 m/s (10 MPH)
Survival wind speed
70 m/s (157 MPH)
Overall weight
10 kg (23 lbs)
ROTOR
Rotor diameter
1.0 m (3.3 ft)
Swept area
0.79 m2 (8.45 ft2)
Blade Length
0.47 m (18.6 in)
Blade Material
Nylon 6/6, black, 33% glass filled
GENERATOR
Drive
Direct drive
Type
Permanent magnet generator, radial flux
Configuration
3∅, 10 pole
Variable frequency and voltage
Maximum power output
1 kW
ELECTRONICS
See turbine control panel for more information.
WARRANTY
Complete system
5 years
TOWERS
Factory supplied
mounting systems for
Rohn 25G & 45G. Bergey GL. Most monopoles.
Others available upon request.
See towers for more information.