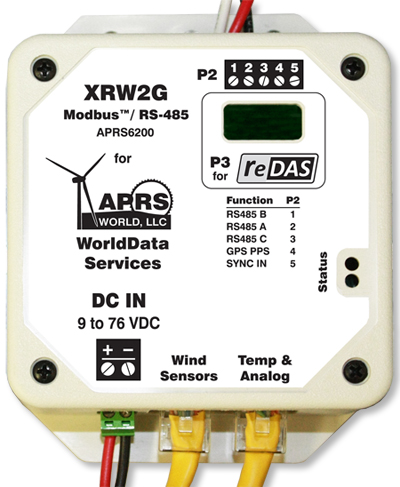 Introduction:
The XRW2G is APRS World's new data acquisition module for wind and weather sensors. Available in two versions - Modbus™ / RS-485 and APRS World / World Data / 802.15.4 XBee Wireless - the XRW2G offers three digital anemometer inputs and eight analog inputs.
Specifications:
Detailed specifications can be found here.
Now available:
The XRW2G is now available in RS-232 and USB versions at the same price of $265.00 for the module. Contact us to learn more.
XRW2G: Sensor Input Module, Modbus, RS-485

US Price: $265.00 USD
Please call us at +1-507-454-2727 to place an order.

XRW2G - RS-485.


Part Number: APRS6200
Shipping Weight: 0.65 pounds
RoHS: compliant
Origin: USA


XRW2G: Sensor Input Module, WorldData, 802.15.4

US Price: $265.00 USD
Please call us at +1-507-454-2727 to place an order.

XRW2G - XBee.


Part Number: APRS6201
Shipping Weight: 0.65 pounds
RoHS: compliant
Origin: USA


XRW2G: Sensor Input Module, RS-232

US Price: $265.00 USD
Please call us at +1-507-454-2727 to place an order.

XRW2G - RS-232.


Part Number: APRS6202
Shipping Weight: 0.65 pounds
RoHS: compliant
Origin: USA


XRW2G: Sensor Input Module, USB

US Price: $265.00 USD
Please call us at +1-507-454-2727 to place an order.

XRW2G - USB.


Part Number: APRS6203
Shipping Weight: 0.65 pounds
RoHS: compliant
Origin: USA

AC adapter, North American, 12 VDC, 5 watts

US Price: $10.00 USD
Please call us at +1-507-454-2727 to place an order.

AC to DC switching power supply. Energy Star compliant. Slim style. 12 VDC, 5 watts output.


Part Number: APRS6602
Shipping Weight: 0.25 pounds
RoHS: compliant
Origin: other